ROLLER SHUTTER INSTALLATIONS
Our Roller Shutter Doors are manufactured to insurance approved specifications and are offered in a comprehensive range of Shutter Types including Solid Steel, Punched, Perforated (Council Approved for shop fronts) or Open Link (often used in bars and clubs to secure the bar). This choice offers your business or home the perfect combination of Security, practicality and aesthetic appearance.
Installation can be either internal or external with options of a galvanised or colour coated finishes (to a colour of your choice) to compliment your property's appearance.
Doors can be operated either electrically by remote or key switch. Manual operation can be either push up or chain operation for larger shutter doors. Raising or lowering is simplicity itself, just a click of a button, pull of a chain or turn of a key.
What about the mail? No problem, we can accommodate access points into all our Roller Shutters, whether small or large, from a Letter Box to an integrated Access Door.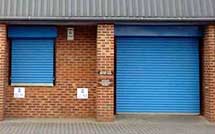 Perforated Steel Roller Shutters
Perforated Shutter Doors provide a similar high level of protection as the solid shutter doors, but have hundreds of small holes (approx 8mm diameter). These small holes offer the added advantage of allowing visibility through the shutter sections when in the secure closed position. These are ideal for shop fronts wanting to display products to potential customers even when closed. Our Perforated Steel Shutters are approved by the Council for use on the high street.