ANTI-CLIMB SOLUTIONS
Anti-Climb Solutions can be designed for most applications:- Whether it's to stop individuals gaining access to a low level roof area, prevent someone climbing a post/drain pipe or just to stop people climbing over your wall or fence.
We have a variety of systems that we use each specific to the on site application. Here are just a few options to think about:-
- Razor Wire - This can be the coiled type or the Razor Tape which is installed in a line between support brackets
Rotating Vanes and Spikes - These offer a strong visible deterrent to discourage an attempt to access the protected area. The vanes and spikes are rotating units making it very difficult for someone to try and use them to hold onto or pass.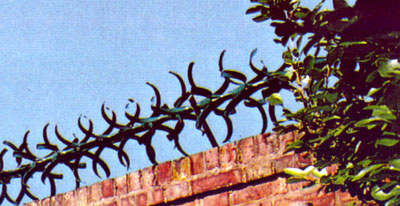 Rotating Anti-Climb Vanes
Post and fence anti-climb solutions